Peace of mind in operational resilience
In recent years, there has been a growing focus on building business resiliency in the face of increasing global uncertainty and potential threats such as natural disasters, cyber-attacks, and economic downturns. At RTOP, we are developing a unique operational resilience platform targeted at being the most comprehensive end to-end specialised (not-general purpose offering) vendor on operational resilience management.
Today, RTOP offers first in class BCM. We are focussed on becoming the leading facilitator of operational resilience. BCM solutions are tactical for the implementation of any business's successful operational resilience strategy, and these BCM solutions guarantee customers a competitive advantage relative to other businesses operating in comparable arenas. Shifting from a reactive approach to a proactive, easy-to-adopt and cost effective approach is easy with the Orbit Open Platform. The Orbit Open Platform allows customers to manage operational resilience risks across organisations, third parties, and technologies and ensures compliance with applicable regulatory requirements and industry best practices.
At RTOP, we combine the delivery of cloud-based SaaS solutions with highly experienced support in implementing operational resilience strategies. By offering our scalable Orbit Open Platform, expert guidance, and BCM certified customer support, we position ourselves as a trusted partner in helping businesses safeguard their operations, thrive in the face of disruptions and provide a a tangible competitive advantage through the following.
Cost-Effectiveness: our customers can avoid substantial upfront costs associated with purchasing traditional software solutions. Instead, they pay a predictable recurring subscription fee, allowing them to focus on investing resources into the implementation of comprehensive operational resilience strategy tailored to their specific requirements aided by the support of our team of highly experienced professionals.
Accessibility and Scalability: our cloud-based SaaS platform ensures that our customers can access their critical operational resilience and business continuity information whenever they need it. Additionally, our solution is scalable, allowing organisations to adapt and expand their usage as their needs evolve.
Continuous Innovation: we offer an added value to our customers with an updated and ready-to-use solution that ensures continuous compliance with ever changing regulations, enables the adoption of best practices, future-proofing their strategies and staying ahead in the digital transformation journey.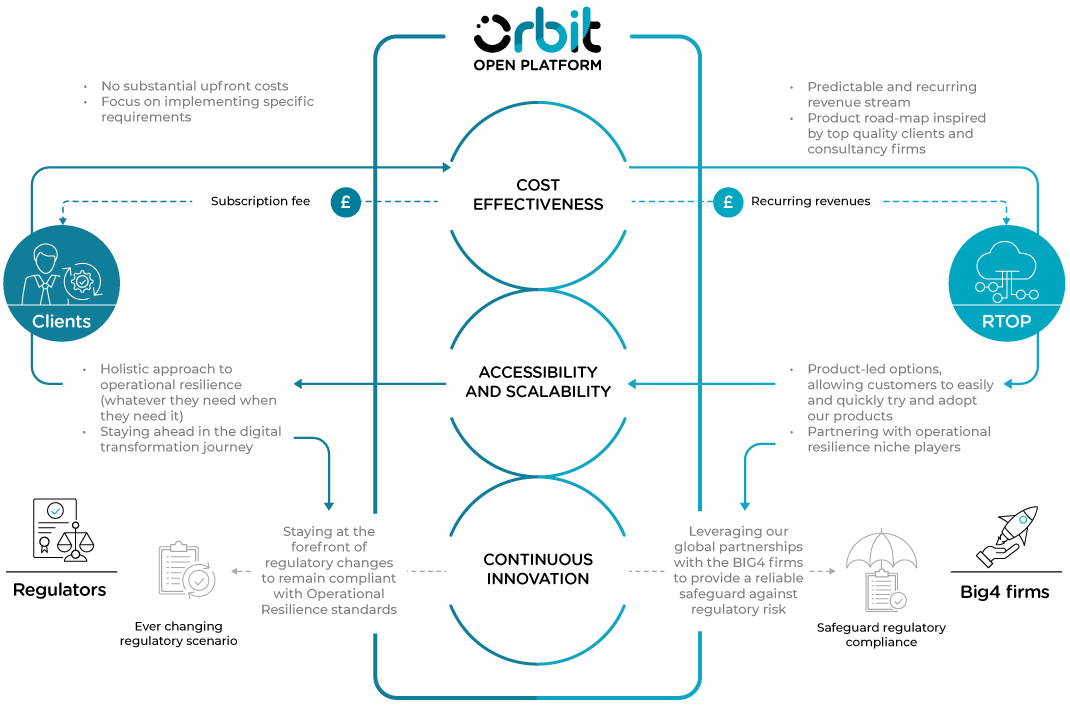 Protect the business, the customer, and the brand
Demonstrate compliance to regulations and standards
Reduce the cost of maintaining operational resilience
Thousands of users trust us every day
25
regulated banks and financial institutions
200
international legal entities
3,000
daily active users on the Orbit Open Platform
95%
average customer retention